New York City found itself grappling with the aftermath of a relentless downpour, experiencing its wettest day since Hurricane Ida. The city was caught off guard as a sudden, potent rainstorm struck during rush hour, leaving streets and highways submerged and essential services severely disrupted. The state of emergency declared by New York Governor Kathy Hochul paints a stark picture of the dire situation that unfolded across New York City, Long Island, and its surrounding areas.
City Grinds to a Halt: Subway System Disrupted and Streets Flooded
Ophelia's remnants, carrying the weight of heavy rain, unleashed their fury on New York City in the early hours of Friday. The onslaught resulted in flash flooding in various parts of the city, with the entire tri-state area, comprising New York, New Jersey, and Connecticut, placed under a flood watch until 6 a.m. Saturday. Meteorologists warned of rainfall rates reaching one to two inches per hour at times, exacerbating the flooding situation.
The impact on the city's transportation infrastructure was particularly severe. The torrential rains forced the suspension of several subway lines, while others had to halt service due to flooded stations, primarily in Brooklyn. The Metropolitan Transportation Authority (MTA) posted updates, noting the extensive disruption caused by heavy flooding, rendering subway service extremely limited.
Calls for Caution and Shelter as Severe Weather Persists
In response to the unfolding crisis, Governor Kathy Hochul declared a state of emergency. This critical decision was swiftly followed by a similar order from New York City Mayor Eric Adams, who issued a stern warning to residents, urging them to exercise heightened alertness and extreme caution.
Mayor Adams emphasized the importance of staying indoors, stating, "If you are home, stay home. If you are at work or school, shelter in place for now." The severity of the storm left little room for unnecessary risk, and authorities were keen to prioritize public safety.
The impact of the storm was evident in the staggering rainfall measurements, with some parts of New York City recording five inches of rain by 11 a.m. Friday. Central Park witnessed its highest rainfall levels since the remnants of Hurricane Ida swept through the area two years ago.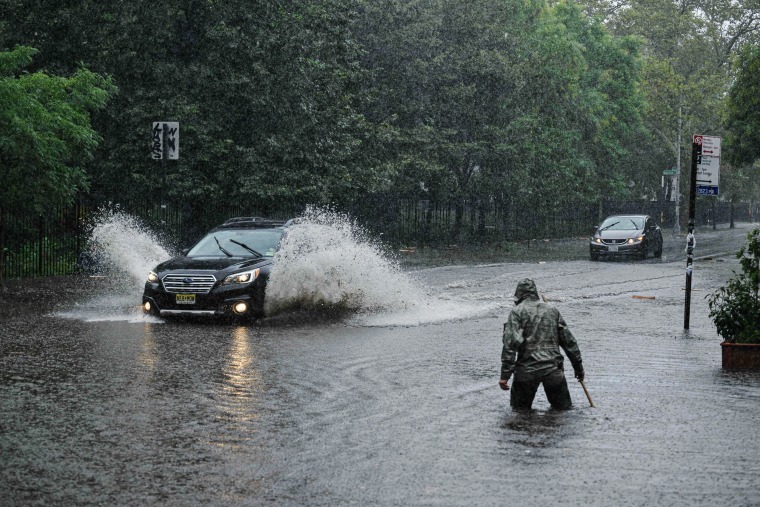 Footage Shows Chaos in the City
As video footage circulated, it revealed the extent of the chaos on the city's streets, with cars stranded in flooded roadways, particularly in the Red Hook neighborhood of Brooklyn. Residents and passersby were seen working tirelessly to clear drains and alleviate the flooding.
The severe weather even prompted the postponement of a baseball game scheduled for Friday night between the Philadelphia Phillies and the New York Mets. Mayor Adams labeled the weather "dangerous" and cautioned that the situation was far from resolved, with the possibility of receiving up to eight inches of rain before the day's end.
In the face of this deluge, New Yorkers remained vigilant, resilient, and united, determined to weather the storm and support one another during this challenging time.