The evolving dynamics and significance of the Northeast Asia US-Japan-South Korea Trilateral Alliance in the context of Northeast Asian security into the alliance's historical roots, its role in upholding the rules-based regional order, and its response to emerging challenges in the region, particularly China's assertiveness.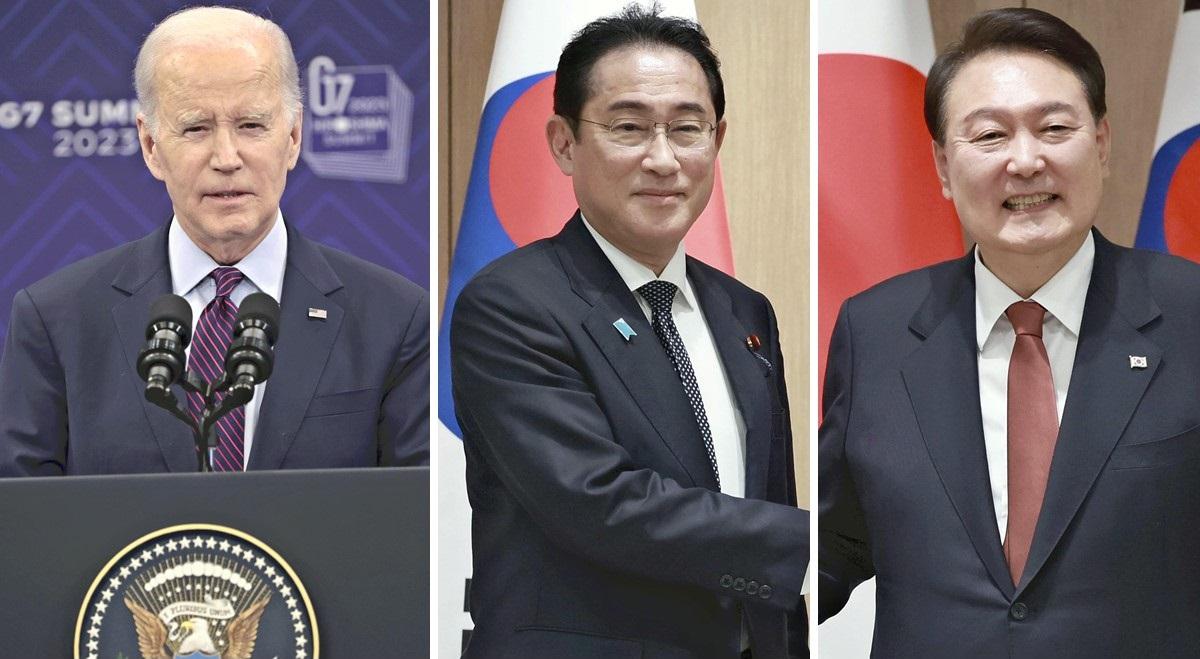 The US-Japan-South Korea Trilateral Alliance in Shaping Northeast Asian Security
According to the published article of Observer Research Foundation, in the rapidly changing landscape of Northeast Asian security, the spotlight has turned to the US-Japan-South Korea Trilateral Alliance, a strategic partnership with profound implications. The central question revolves around the alliance's significance in preserving the rules-based regional order and advancing President Biden's democracy-focused vision amidst a rising tide of autocracy, notably from China.
As China's assertiveness grows and a China-Russia-North Korea alignment takes shape, the United States is resolute in maintaining its strategic edge, rooted in historical agreements like the 1969 Nixon-Sato Korea Clause. However, the alliance's effectiveness hinges on its ability to navigate intricate domestic politics, especially the historical memory and perception disputes that divide its Northeast Asian members.
Despite historical tensions, Japan and South Korea are showing signs of cooperation. They've revived military intelligence-sharing, eased trade disputes, and initiated policy dialogues. Yet, challenges persist, with skepticism in South Korea's progressive camp and factional politics in Japan's Liberal Democratic Party. The Trilateral's reference to Taiwan in the Camp David Statement has raised concerns in Beijing. China views this as part of a broader pattern of Cold War rhetoric and alliances forming against it, in contrast to its efforts to foster economic integration and solidarity through agreements like RCEP and CPTPP.
Renewed Hope in South Korea-Japan Relations
As indicated in the article of The Interpreter, South Korea and Japan have experienced a rocky relationship, largely due to historical grievances stemming from Japan's colonial rule over the Korean Peninsula. However, there are signs of improvement, most notably seen in the trilateral summit hosted by US President Joe Biden at Camp David. This event marks a significant step forward in diplomatic relations between the two nations, signaling a potential thaw in their historically tense ties.
While the specific outcomes of the summit are yet to be determined, there is talk of establishing crisis communication channels, regularizing joint military exercises, and holding annual leaders' summits. These possibilities would have been unimaginable not too long ago, showcasing a remarkable shift in the dynamics of South Korea-Japan relations.
The Biden administration views this summit as an opportunity to strengthen alliances and address shared challenges, emphasizing the importance of broadening partnerships. Their efforts have paid off with South Korea and Japan agreeing to share real-time information on North Korean missile launches, restoring military intelligence-sharing, and engaging in high-level visits. However, as relations between the US, South Korea, and Japan improve, it raises concerns for China and North Korea. China will closely monitor the summit for any mention of Taiwan and is likely to react strongly regardless of the extent of the discussion.